MECHANICAL VENTILATOR WORKSHOP
Mechanical Ventilator Workshop
---
Course Directors : Dr. Vipul Thakkar / Dr. Bhagyesh Shah
Date: July 14, 2019 (Sunday)
Duration :1 Day
Timing: 8.00 AM to 2.00 PM
Number of seats : 50
Venue : CIMS Auditorium
 Program Overview:
Mechanical Ventilator Support is a basic and key life-sustaining system while dealing with very sick patients in ICU. In general, this support is a marker of severity of critical illness. As with any science and technology, constant innovation and advances in the field of Mechanical Ventilator Support are happening. In the current era of popularity and evidences favouring cardio-pulmonary supports like ECMO it is vital to learn, and refresh and be updated technology, science and care of Mechanical Ventilator Support.
 Program Highlights:
Respiratory Physiology
Classification of Mechanical Ventilation – basic mode,
type of breaths, goals & indications
Ventilation in different case scenario /
disease specific ventilation
Graphics in Mechanical Ventilation
Monitoring, care of mechanically ventilated patient
Weaning from Mechanical Ventilation
Non-invasive Ventilation & HFNC
Newer modes of Mechanical Ventilation
Registration Fees:  500/- (Non Refundable)
Spot Registration Fees :1,000/- (Non Refundable)
 Certificate of attendance will be given at the end of the Course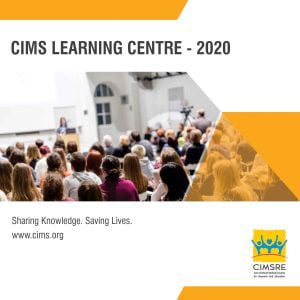 We are pleased to announce CIMS Learning Centre Programme for the year 2020.
CIMS Learning Centre is in its 6th year and our passion and our dreams to create a Learning
Centre that sets the highest standard of medical education are surely being realized. We aim to
keep expanding and diversifying our courses offered and thereby creating an extremely vital
medical education hub which can truly push each individual and ourselves forward. Our
teaching sessions are planned each year to be more and more interactive to meet the learning
expectations of our colleagues and students.CIMS hospital has been approved as American College of Cardiology (ACC) Centre of Excellence 2014-2015, the first and only one in India.
For more details about course of your interest contact us:
Phone : +91 79 48052348 or 1100 OR +91 9586070100 OR  +91 9426880247
Email: clc@cims.org &  communications@cims.org
CMEs
---
A physician's education does not end with medical school and residency. Continuing Medical Education, or CME, allows physicians to keep up with new developments in all medical fields.
1."Cardiology – An Update 2012″Date: Thursday, 26th April, 2012 Venue: Auditorium, CIMS Hospital, Sola, Ahmedabad – 15. Time: 08:00 p.m onwards. For more information, Please Click Below Link
2. "Acute Stroke: Management in 2010 "with an Interactive Panel Discussion. Date: September 10, 2010 Venue: Auditorium, CIMS Hospital, Sola, Ahmedabad – 15. Time: 08:30 p.m onwards. For more information, Please Click Below Link
3. "Arrhythmia and HF Education Curriculum – 1 " ( CIMS and ST. Jude Medical ) Date: October 23/24, 2010 For more information, Please Click Below Link
4. "Application Of Newer Modalities In Echocardiography " (By Dr. Navin Nanda ) Date: November 28, 2010 Time : 07:30 AM – 02:00 PM Venue : CIMS Hospital Ahmedabad. For more information, Please Click Below Link
Online Registration: We accept online payments for almost all our courses through our secure payment gateway. You can visit the course page and you will have direct access to make the payment. Online payments are the fastest way to guarantee your course and we recommend it. It is good to drop us an email with your payment receipt details so that we can quickly reconfirm your registration. Send an email to clc@cims.org or give us a call to reconfirm your registration at +91 9426880247
Offline Registration: In case you wish to make a manual or offline payment, you may download the registration form in the "Important Documents" section and follow the process mentioned there. Call us or email us if you need any help.
Registration Assistance: If you need any help or guidance during your registration and payment process don't hesitate to ask. We have a team of professionals eager to help get you registered quickly. Give us a call during normal business hours 10AM to 5PM - Monday to Saturday. You can also drop us an email at clc@cims.org. Someone will get in touch soon.
HAVE A QUESTION FOR THE CIMS LEARNING CENTER ?
Marengo CIMS Hospital was awarded being the best hospital in Gujarat for 2019 by the International Health Care Awards.
Marengo CIMS Hospital is a 350-bedded, multi-super speciality and regarded one of the best multi-speciality hospitals of Ahmedabad in Gujarat providing a range of diagnostic and treatment services.
Marengo CIMS Hospital has been awarded best hospital for quality in service delivery award at the ABP News presents Healthcare Leadership Awards 2015 held at Mumbai.
Marengo CIMS Hospital has been recognized as the Times Health Icon 2018 for being the best Hospital for Oncology and Critical Care. Marengo CIMS Hospital also was rated the Best Multispecialty Hospital in Gujarat at the International Healthcare Awards, 2018 held in Delhi.
Marengo CIMS Hospital provides world-class treatment and healthcare services in India and the leading heart hospital in Ahmedabad, Gujarat. Marengo CIMS Hospital offers the highest quality services and offers treatment to most diseases and medical problems with one of the highest success rates in India.
Plot No. 67/1, Opp. Panchamrut Bunglows,
Near Shukan Mal, Off. Science City Road,
Toll Free Number : 1800 309 9999
Medical Helpline +91 70 69 00 00 00
Phone: 079 4805 1200 or 1008
+91 79 2771 2771 or 72
Fax: +91 79 2771 2770
Mobile: +91 98250 66664 or +91 98250 66668
Ambulance: +91 98244 50000
Email: info@cims.org | opd.rec@marengoasia.com
Registered Address:
CIMS Hospital Private Limited
Plot No.67/1, Opp. Panchamrut Bungalows,
Nr. Shukan Mall, Off Science City Road, Sola, Ahmedabad – 380060
CIN No: U85110GJ2001PTC039962