Nephrology
---
About Nephrology: Nephrology is a branch of medicine that deals with the diagnosis and treatment of kidney diseases, including hypertension and electrolyte imbalance and also deals with the treatment of  patients who require Renal Replacement Therapy in the form of Dialysis & Renal Transplant.
Nephrology department
---
Comprehensive nephrology services are offered to diagnose and treat various diseases. This includes, but is not limited to:
Hypertension
Diabetic Kidney Disease
Inherited Kidney Disease
Kidney Stones
Nephritis and Nephrotic Syndrome
Vasculitis
Polycystic Kidney Disease
Critical Care Nephrology
Acute and Chronic Renal Failure
What are Kidneys?
---
Kidneys are bean-shaped organs around 10-12 cm in length, 2 in number situated on either side of the backbone. Each kidney comprises of approximately 1 million nephrons, the functioning units- the filtration units.  The kidneys function to purify the blood and to remove toxins from blood.
Common causes of Kidney Diseases
---
Diabetes Mellitus
Hypertension (High Blood Pressure)
Hereditary Kidney Disease
Inflammation of kidneys (Glomerulonephritis)
Common symptoms of Kidney Diseases
---
Swelling of face and legs
Decrease in urine output
Increased urination at night
Blood in urine
Decreased appetite vomiting
Breathlessness
Common Signs:
---
Rise in BP (Hypertension)
Anaemia (fall in haemoglobin)
Dry skin
Are you at risk of Kidney Disease?
---
If you have diabetes, high blood pressure or family history of kidney diseases, you may be at risk of developing kidney disease. Periodic screening in the form of simple blood and urine test is helpful in detecting early kidney disease and preventing deterioration of kidney function.
Precautions to be taken for Healthy Kidneys
---
Adequate fluid intake
Healthy diet
Blood Pressure control
Diabetes control
Clinical Services/Procedures offered are:
---
Inpatient/outpatient Haemodialysis
Continuous Renal Replacement Therapy (CRRT)
Renal Biopsy
Plasmapheresis
Chronic Ambulatory Peritoneal Dialysis
Renal Transplantation
Nephrology Department at
Marengo CIMS Hospital has seven dialysis machines. The department functions round the clock.
Being an international level hospital, complicated cases are referred to this department from various other centers.
Facility for CRRT (continuous renal replacement therapy)for critically ill patients requiring dialysis is also available.
Haemodialysis
---
Haemodialysis is a method, wherein blood is purified through a machine known as "hemodialyser". Blood flows through a dialyser and is returned to the body after purification.
Haemodialysis requires AV-Fistula or dialysis catheter. Dialysis catheter could be of short term or long term duration.
Haemodialysis should be performed twice or thrice a week as per advice by nephrologist for patients whose kidneys are permanently impaired.
Haemodialysis is also required and performed in patients having severe, but temporary reduction in kidney function.
It can be performed at hospital only under observation of skilled nephrologists and technical staff.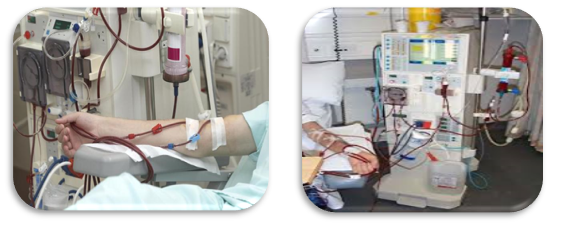 Haemodialysis is done for:
---
Acute as well as chronic renal failure patients
In case of drug overdose
Plasmapheresis for renal as well as non-renal cases
Reducing incidence of Hepatitis B and C, rigorous precautions are taken and such patients are dialysed on separate machines.
Dialysis
---
When kidney function drops below minimum requirement to sustain body and maintain normal parameters, the solution is to replace the kidney function with either another artificial technology or transplant of healthy kidney. Purification of blood via artificial means is called "Dialysis".
Type of Dialysis:
Haemodialysis
Peritoneal Dialysis
Peritoneal Dialysis
---
Peritoneal dialysis is another modality for dialysis, which is equally effective as haemodialysis.
Peritoneal dialysis, which is done as a long term therapy for the patient having permanent loss of renal function is called Continuous Ambulatory Peritoneal Dialysis (CAPD).
In this process, a rubber tube is inserted in the abdomen and fixed there.
A peritoneal dialysis solution is infused through tube 3-4 times a day as per advised by the nephrologist.
The solution remains in abdomen for about 6 hours, removes toxin from blood and after 6 hours, dialysis solution with toxin inside is drained out of abdomen.
Infusion and drainage of peritoneal fluid should be done for 3-4 times a day.
It is extremely useful in patients without vascular access (AV fistula or long term dialysis catheter).
It is not suitable for patients who have undergone multiple abdominal surgeries.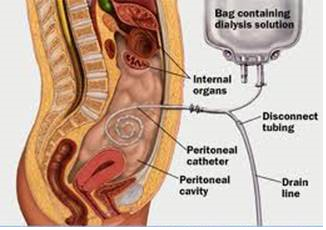 Marengo CIMS Hospital has 7 dialysis machines and 1 CRRT machine and has performed 3322 haemodialysis procedures including 1895 (OPD) and 1427 (IPD) in the last year (2017).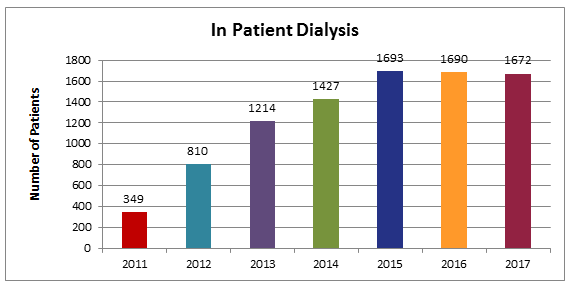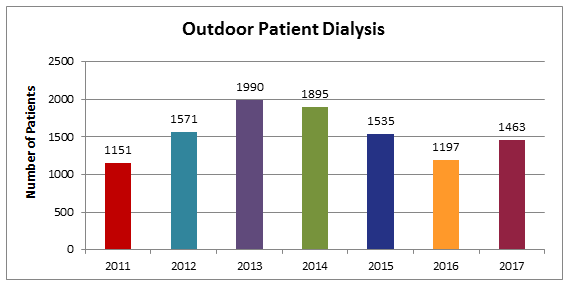 Renal Transplant
---
Renal Transplant (RT) is the best possible option for patient suffering from end-stage Renal-Disease. Legally, near relative that include (father-mother, grandfather-grandmother, brother-sister, son-daughter, grandson-granddaughter and husband-wife) can donate kidneys to one another.
Such transplant is called "live related renal transplantation".
For patients who don't have well-matched relative for donation, they can opt for deceased/ cadaveric renal transplantation. In deceased donor/cadaveric renal transplantation, kidneys are harvested from brain-dead donors and implanted in recipients.
The 3rd option for Renal Transplant is swap Renal Transplant for unrelated patients.
Renal Transplant requires extensive work-up for both recipients and donors before transplantation.
Patients need to continue necessary medications for rest of his or her life to ensure proper kidney graft function.
They require lifetime follow-up with the nephrologist.
Under a Renal Transplant operation, new kidney allograft is placed in right lower abdomen without removing original kidney.
Marengo CIMS Hospital is well-equipped with all necessary resources for a successful renal transplantation which include but not limited to:
Highly experienced and qualified team of doctors.
Renal Transplant Program Coordinator for counselling sessions for patient and relatives.
Renal Transplant Committee constituted by subject matter experts and key opinion leaders for transparent, non-objectionable ethical review.
Best infection control practices while harvesting kidney to be transplanted and also throughout the procedure.
Renal transplant ICU.
CIMS has an active cadaveric renal transplant program & we enroll & maintain a cadaveric waiting list.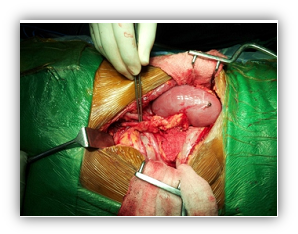 CIMS Kidney Transplant Center
---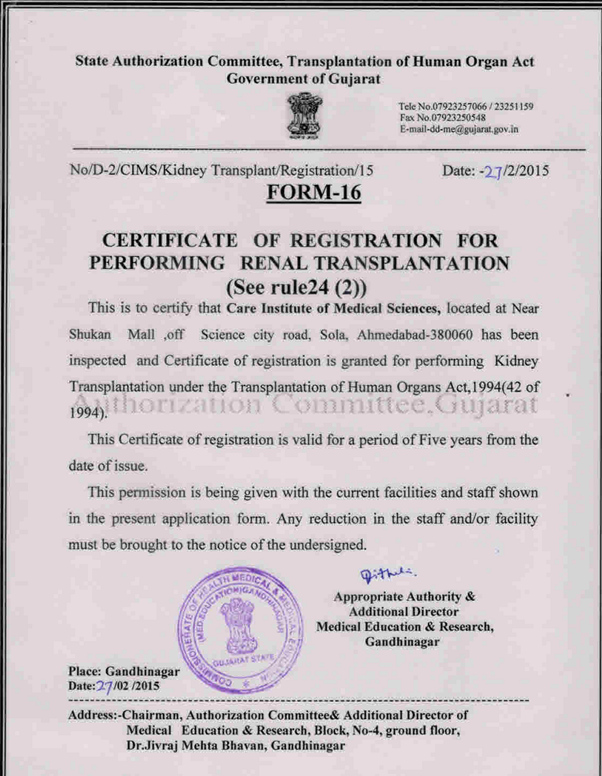 English Videos
[yotuwp type="videos" id="bcT-kxLhph8,1eiMW7WFM7k,AkIXaN1NNcE,VnhImx4j8U8,ZC3uspclvxs,EZoGUjCXGJA,xZbTHmcKpqI,T5M-x8KXN4s,IUvQ2OnJ8Vs" ]
Gujarati Videos
[yotuwp type="videos" id="IJvXo8_MHT0,ifC5I1-gjgU,vvqaswYDNfo,1uNEGURoRoc,0eEzQefLAXQ,Ssfx2_GYjzw,myOjURZveUE,gzUYWn4WLq0,esviND0mOTE" ]
Hindi Videos
[yotuwp type="videos" id="8IBjlAgrmro,P01-AFarr_E,v-RgWeUbfMU,-9sqGd_dg3E,_FB2DJWNz8Q,CsfNz5pb3CE,23gl0apDrK0,lEB11Dj_4iI,hmCsoZaaNJQ" ]
Marengo CIMS Hospital has received several awards and recognitions for its outstanding healthcare services and quality of patient care. The hospital has been consistently recognized for its commitment to delivering high-quality healthcare services and has been awarded as the best hospital in Gujarat for 2019 by the International Health Care Awards.
The hospital has also received several other awards, such as the best hospital for quality in service delivery award at the ABP News presents Healthcare Leadership Awards 2015, held in Mumbai. This award highlights the hospital's dedication to providing high-quality healthcare services to its patients.
Marengo CIMS Hospital is also recognized as the Times Health Icon 2018 for being the best hospital for Oncology and Critical Care. This recognition is a testament to the hospital's expertise in treating critical diseases and its exceptional care for cancer patients.
Furthermore, Marengo CIMS Hospital was rated as the best multispecialty hospital in Gujarat at the International Healthcare Awards 2018 held in Delhi. This recognition highlights the hospital's commitment to delivering world-class healthcare services and providing quality treatment to patients with various medical conditions.
Marengo CIMS Hospital is a 350-bedded, multi-super specialty hospital, and is regarded as one of the best multi-specialty hospitals in Ahmedabad, Gujarat. The hospital offers a range of diagnostic and treatment services and is a leading heart hospital in Ahmedabad, Gujarat. The hospital provides world-class treatment and healthcare services, with one of the highest success rates in India.
Marengo CIMS Hospital's recognition as the best hospital in Gujarat for 2019 by the International Health Care Awards, and several other awards and recognitions, showcases the hospital's commitment to delivering high-quality healthcare services and providing exceptional care to its patients.
Plot No. 67/1, Opp. Panchamrut Bunglows,
Near Shukan Mal, Off. Science City Road,
Toll Free Number : 1800 309 9999
Medical Helpline +91 70 69 00 00 00
Phone: 079 4805 1200 or 1008
+91 79 2771 2771 or 72
Fax: +91 79 2771 2770
Mobile: +91 98250 66664 or +91 98250 66668
Ambulance: +91 98244 50000
Email: info@cims.org | opd.rec@marengoasia.com
Registered Address:
CIMS Hospital Private Limited
Plot No.67/1, Opp. Panchamrut Bungalows,
Nr. Shukan Mall, Off Science City Road, Sola, Ahmedabad – 380060
CIN No: U85110GJ2001PTC039962