ECHOCARDIOGRAPHY FELLOWSHIP PROGRAM CERTIFICATION COURSE
Echocardiography Fellowship Programme
Course Directors :Dr. Satya Gupta / Dr. Vineet Sankhla / Dr. Milan Chag / Dr. Tejas V. Patel
Duration : One Week (Monday to Saturday)
Number of seats : 15
Venue : CIMS Auditorium
Notice: Admissions for the November 2019 batch are closed and all seats have been taken. Please come back later to see details for our next available couse.
Program Overview:
Sights and Sounds of Echocardiography at CIMS Hospital is a premier education course for echocardiologists, fellows in training, and physicians in clinical practice. Over the past few years, we have trained and taught more than 1000 candidates. This unique programme is intended for those who want to learn echocardiography right from basics. Overall programme includes lectures on basics of echocardiography, theoretical and practical aspects of ischemic, valvular and congenital heart disease in relation to echocardiography and hands-on supervised training. This is the star educational programme of the CIMS Learning Centre and has been appreciated worldwide.
Unique Features:
6 days extensive teaching of echocardiography
Easy access to faculty members
Supervised hands-on practice
Provision of course materials (Textbook of Echocardiography)
Hotel Registration: Separate
 Certificate of attendance will be given at the end of the Course
Echo Fellowship – 2019
Time Table Of Echo Fellowship Programme-2019
Month
Year
Start Date
End Date
November
2019
25-Nov-19
30-Nov-19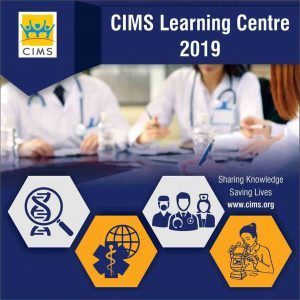 Care Institute of Medical Sciences (CIMS Hospital) is pleased to present the CIMS Learning Centre (CLC) Program for the year 2019. Growth is driven by curiosity; curiosity is assuaged by knowledge. Knowledge is gained by continuing education. At CIMS CLC, we recognise that teaching and practice go hand in hand. CLC is founded on that premise. To share what we learn and pursue bigger ideas. In today's constantly evolving field of medicine, there is always new to learn. Rapid advances, newer breakthroughs and technological innovations require continuous updates to impact practices. We do provide best medical facilities to our patients; but we also are driven by the need to learn and teach - to create a vast body of professionals highly committed to the pursuit of world-class healthcare with knowledge at their fingertips. CLC is born of that need. A dream to create a Learning Centre par excellence, setting the highest standards of medical education. CIMS Learning Centre Program offers continuing medical education opportunities for a variety of faculty and medical providers, including Physicians, Technologists, Researchers and Nurses. From the last 21 years, we have been holding a continuous stream of workshops, CMEs, Fellowships and Annual conference JIC (hosting more than 2000 delegates) to uphold our academic endeavors.
CIMS hospital has been approved as American College of Cardiology (ACC) Centre of Excellence 2014-2015, the first & only one in India.
For more details about course of your interest contact us: 
Phone : +91 79 30102348 or 1100 OR +91 9586070100 OR +91 9426880247
Email: clc@cims.org & clccommunications@cims.org
CMEs
---
A physician's education does not end with medical school and residency. Continuing Medical Education, or CME, allows physicians to keep up with new developments in all medical fields.
1."Cardiology – An Update 2012″Date: Thursday, 26th April, 2012 Venue: Auditorium, CIMS Hospital, Sola, Ahmedabad – 15. Time: 08:00 p.m onwards. For more information, Please Click Below Link
2. "Acute Stroke: Management in 2010 "with an Interactive Panel Discussion. Date: September 10, 2010 Venue: Auditorium, CIMS Hospital, Sola, Ahmedabad – 15. Time: 08:30 p.m onwards. For more information, Please Click Below Link
3. "Arrhythmia and HF Education Curriculum – 1 " ( CIMS and ST. Jude Medical ) Date: October 23/24, 2010 For more information, Please Click Below Link
4. "Application Of Newer Modalities In Echocardiography " (By Dr. Navin Nanda ) Date: November 28, 2010 Time : 07:30 AM – 02:00 PM Venue : CIMS Hospital Ahmedabad. For more information, Please Click Below Link
Online Registration: We accept online payments for almost all our courses through our secure payment gateway. You can visit the course page and you will have direct access to make the payment. Online payments are the fastest way to guarantee your course and we recommend it. It is good to drop us an email with your payment receipt details so that we can quickly reconfirm your registration. Send an email to clc@cims.org or give us a call to reconfirm your registration at +91 9426880247
Offline Registration: In case you wish to make a manual or offline payment, you may download the registration form in the "Important Documents" section and follow the process mentioned there. Call us or email us if you need any help.
Registration Assistance: If you need any help or guidance during your registration and payment process don't hesitate to ask. We have a team of professionals eager to help get you registered quickly. Give us a call during normal business hours 10AM to 5PM - Monday to Saturday. You can also drop us an email at clc@cims.org. Someone will get in touch soon.
HAVE A QUESTION FOR THE CIMS LEARNING CENTER ?
Your vote counts at CIMS Hospital, so here is our monthly question to you on whether or not the hospital should offer free internet to it's guests or whether it's not needed since everyone has an internet connection on their phone.
CIMS Hospital was awarded being the best hospital in Gujarat for 2019 by the International Health Care Awards.
CIMS Hospital is a 350-bedded, multi-super speciality and regarded one of the best multi-speciality hospitals of Ahmedabad in Gujarat providing a range of diagnostic and treatment services.  
CIMS Hospital has been awarded best hospital for quality in service delivery award at the ABP News presents Healthcare Leadership Awards 2015 held at Mumbai.
CIMS Hospital has been recognized as the Times Health Icon 2018 for being the best Hospital for Oncology and Critical Care. CIMS Hospital also was rated the Best Multispecialty Hospital in Gujarat at the International Healthcare Awards, 2018 held in Delhi. 
CIMS Hospital provides world-class treatment and healthcare services in India and the leading heart hospital in Ahmedabad, Gujarat. CIMS Hospital offers the highest quality services and offers treatment to most diseases and medical problems with one of the highest success rates in India.
CIMS Hospital
Care Institute of Medical Sciences
Off Science City Road, Sola, Ahmedabad – 380060
Gujarat, INDIA
24x7 Helpline +91 70 69 00 00 00
Phone: +91 79 2771 2771 or 72
Fax: +91 79 2771 2770
Mobile: +91 98250 66664 or +91 98250 66668
Ambulance: +91 98244 50000
Email: info@cims.org