FIND OUT WHY
EVERYONE CHOOSES
CIMS
CIMS STEMI ( HEART ATTACK TREATMENT ) PROGRAM
Several studies indicate "Over 50 percent of patients suffering
from heart attack die just because they are unable to reach the hospital in time".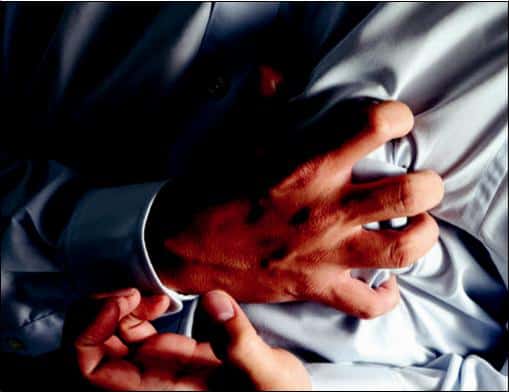 Unanswered Questions to Scene
Is this a heart attack?
Whom to contact?
Where will I get the treatment?
What is the treatment?
How fast to get the treatment?
Will I recover?
CIMS STEMI ( HEART ATTACK TREATMENT ) PROGRAM AIMS TO
Inform and educate all to take specific actions in case of a heart attack.
Give timely life saving care to local STEMI patients as well as from referring hospitals/doctors.
Promote the ideal system of care for patients with ST-segment elevation myocardial infraction (STEMI: Heart Attack) and Out of Hospital Cardiac Arrest.
Reduce mortality and morbidity of heart attack patients and improve their quality of life through continuum of care.
Improve medical care for all by adopting world class practices and demonstrate trustee ship in societal healthcare awareness and upliftment.
The Key to Surviving Heart Attack is to get Medical Help as soon as Possible.
Golden Hour = First 60 minutes
Heart Attack Warning Signs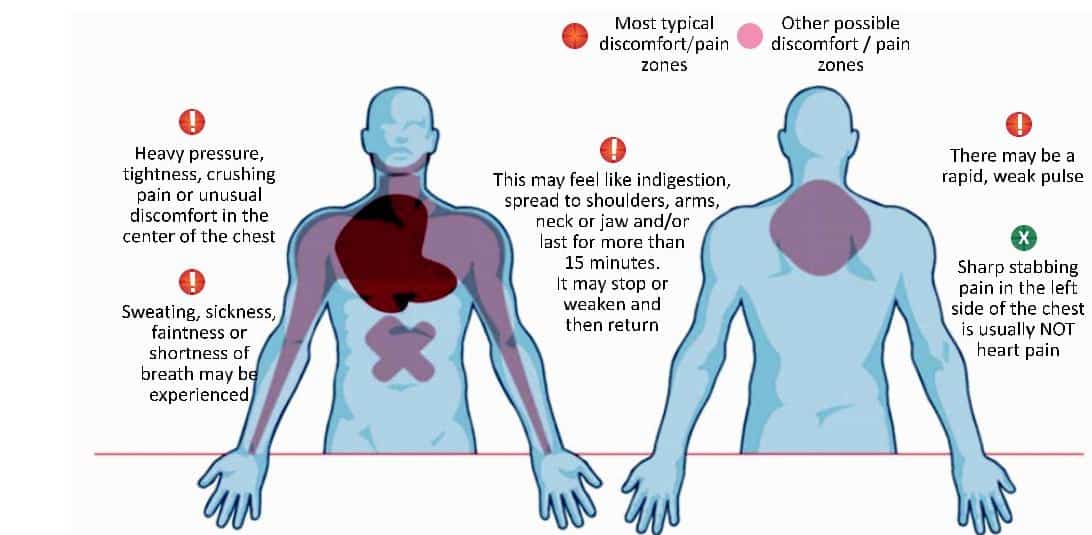 Warning Signs in Women
Sudden onset of weakness, shortness of breath, nausea/vomiting, i n d i g e s t i o n , f a t i g u e , body aches, or overall feeling of illness (without chest pain)
Unusual feeling  or  mild discomfort in the back, chest, arm, neck, or jaw (without chest pain)
Sleep disturbance
Anxiety
Silent Heart Attack
Many diabetics and certain patients MAY NOT experience pain if they suffer a heart attack. They may have no symptoms or may have a slight shortness of breath or sweating or severe weakness. Such cases may go untreated and undetected, for people who are likely to ignore such insignificant symptoms.
Who Can Get a Heart Attack?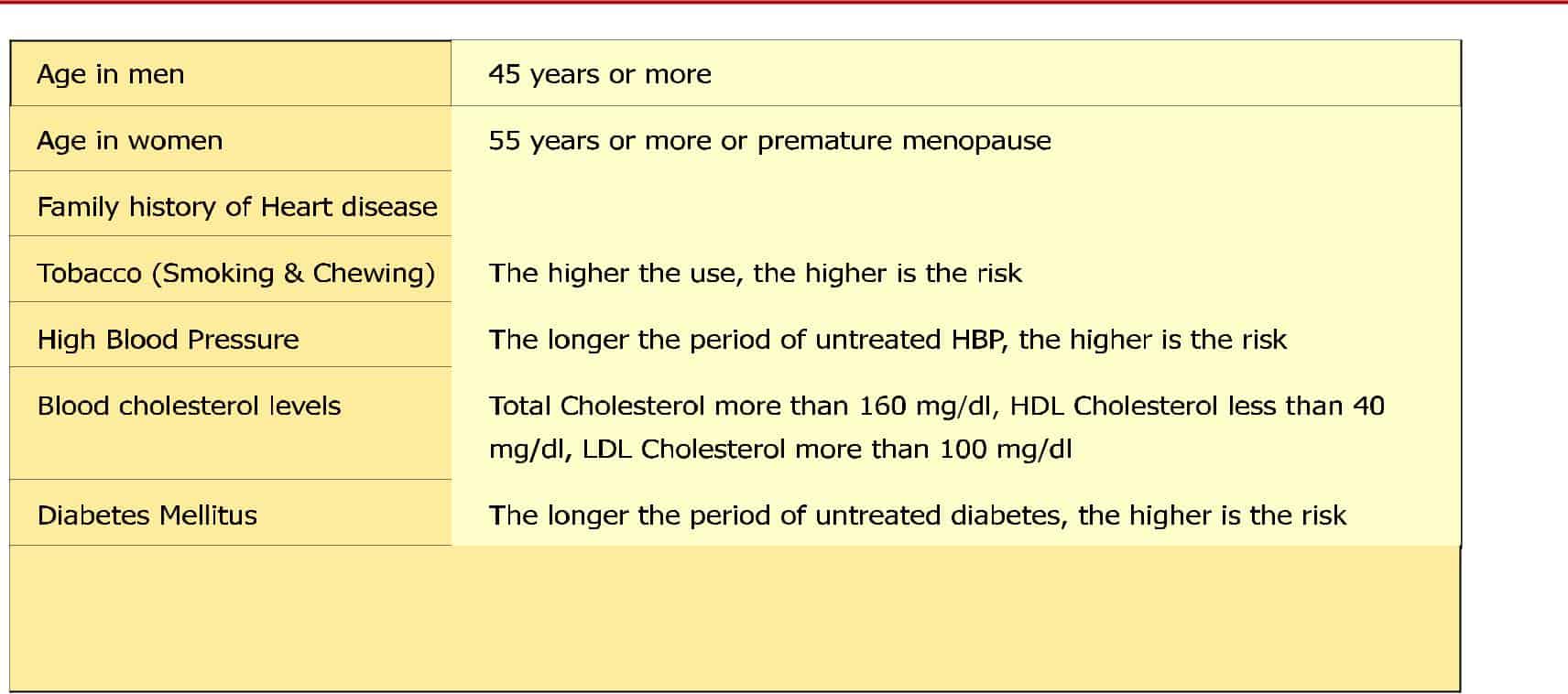 Definition of family history of premature CAD : having first degree male relatives (grandfather, father or brother) who died of CAD before the age of 55 years or first degree female relatives (grandmother, mother or sister) who died of CAD before the age of 65 years

Heart Attack and its Types
Heart attacks are usually triggered by the rupture of a fat deposit (plaque) within the blood vessels( coronary artery) that supply oxygen to the heart muscle.
The plaque rupture forms a blood clot, leading to blockage of the artery.
The portion of the heart muscle being supplied by the blocked
artery   then   begins   to   die   that         defines   a   Myocardial Infarction (MI) (Fig 1).
Types of Heart Attacks
According to their severity, Heart Attacks are divided in 2 types.
STEMI (ST-Segment Elevation Myocardial Infarction): This more severe type of heart attack is usually recognized by characteristic changes it produces on the ECG-elevation of ST-segment (Fig 2).The elevated ST segment indicates that a relatively large amount of heart muscle damage has occurred (because the coronary artery is totally occluded).
NSTEMI (Non-ST-Segment Elevation Myocardial Infarction) : This is a milder form of Heart Attack with no ST segment elevation (Fig 3).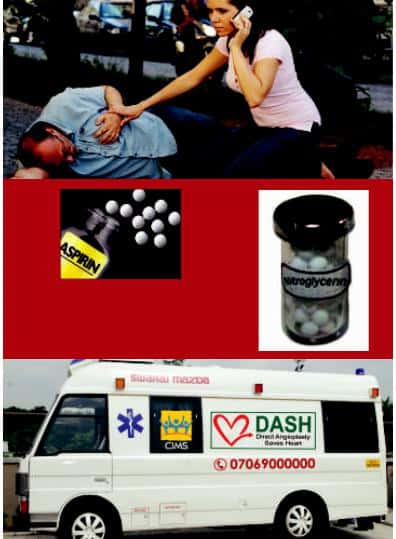 What to do in a Heart Attack?
Stop activity and lie down.
Take a tablet of soluble aspirin. This helps in 'thinning' blood, and prevents blood from clotting.
Put a nitroglycerine tablet below your tongue.
Call for help and an ambulance (Dial CIMS 24 x 7 Helpline  +91-70690 00000).
Reaching a fully equipped hospital like CIMS as soon as possible should be the most important goal of the patient and his supporters.
Golden Hour = The First 60 Minutes
Research has shown, that most of the deaths due to heart attacks occur in the first hour after the onset of chest pain. But, if the portion of the heart muscle deprived of blood is given blood within a short time, it fully recovers without any damage.

Cardiological intervention during the first crucial hours may save the heart muscle and the patient from dying.
Also, quality of life afterwards is far better if a heart attack is treated within the first few hours at a hospital equipped with a Cardiac Catheterization Laboratory.
Treatment Within The Golden Hour Saves Life. In The Hospital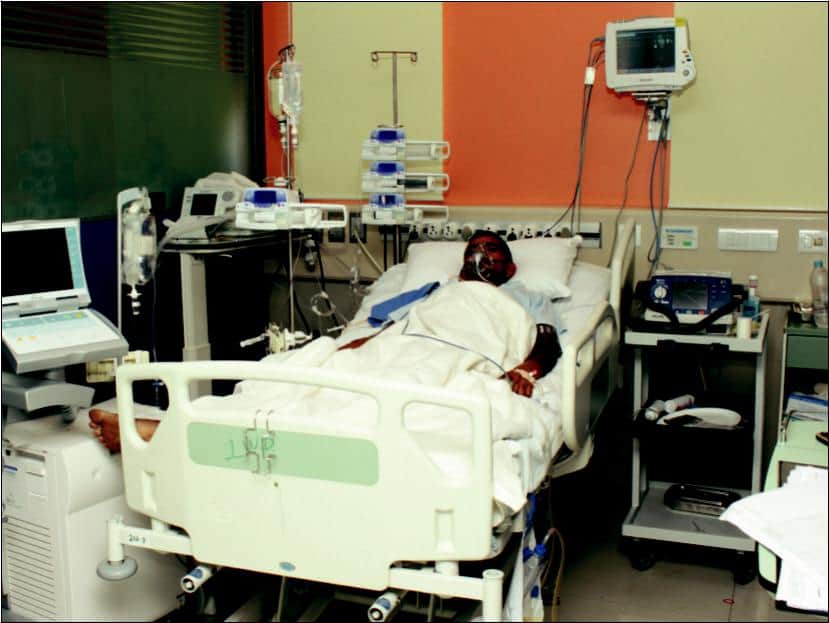 Heart attack cases go to the Intensive Coronary Care Unit (ICCU).
The diagnosis is confirmed by the history of symptoms, physical examination, blood tests and electrocardiogram.
Once a heart attack is confirmed, the patient will be kept on continuous ECG monitoring.
Oxygen may or may not be given. Medicines like Aspirin may be given to thin blood. An intravenous nitroglycerin infusion may be started. This increases coronary blood flow.
Blood clot dissolving medicine like Streptokinase, Urokinase or TPA (Tissue Plasminogen Activator) may also be given.
Serial ECG tracings indicate how the heart attack is progressing.
Blood tests like Troponin or CPK Enzyme help confirm the diagnosis of heart attack.
Further treatment is decided after considerable thought and weighing all the options.
How Is the Blockage Treated in STEMI?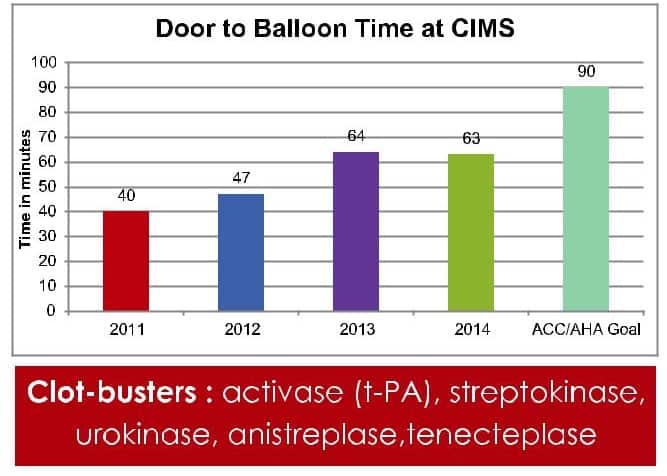 There are two general methods for opening a blocked coronary artery:
a) Thrombolytic therapy: consists of giving drugs, which act rapidly to dissolve the blood clot that has blocked the artery. The earlier the drug is given, the better the chances of success. The best results are obtained within the first three hours. The major side effect of thrombolytic therapy is bleeding.
b) Angioplasty with stenting is more effective in successfully opening a blocked coronary artery during an acute MI. The American practice guidelines recommend treatment (reperfusion) within 90 minutes (Door to Balloon time) for STEMI patients. At CIMS, we achieve this in less than 50 minutes on an average.
c) Other drugs include Aspirin, Heparin, Beta blockers, ACE Inhibitors, Statins.

STEMI Patient Example: This fluoroscopy image of a STEMI patient's heart, shows dark lines that represent blood filled arteries. Figure-1 shows blockage which prevents the blood from flowing freely in the heart. Figure-2 The patient has been treated with a stent implant, and the blood is flowing freely through the patient's arteries within the heart.
The most important thing is to ACT quickly.
CIMS STEMI ( HEART ATTACK TREATMENT ) PROGRAM Saves Time to Treatment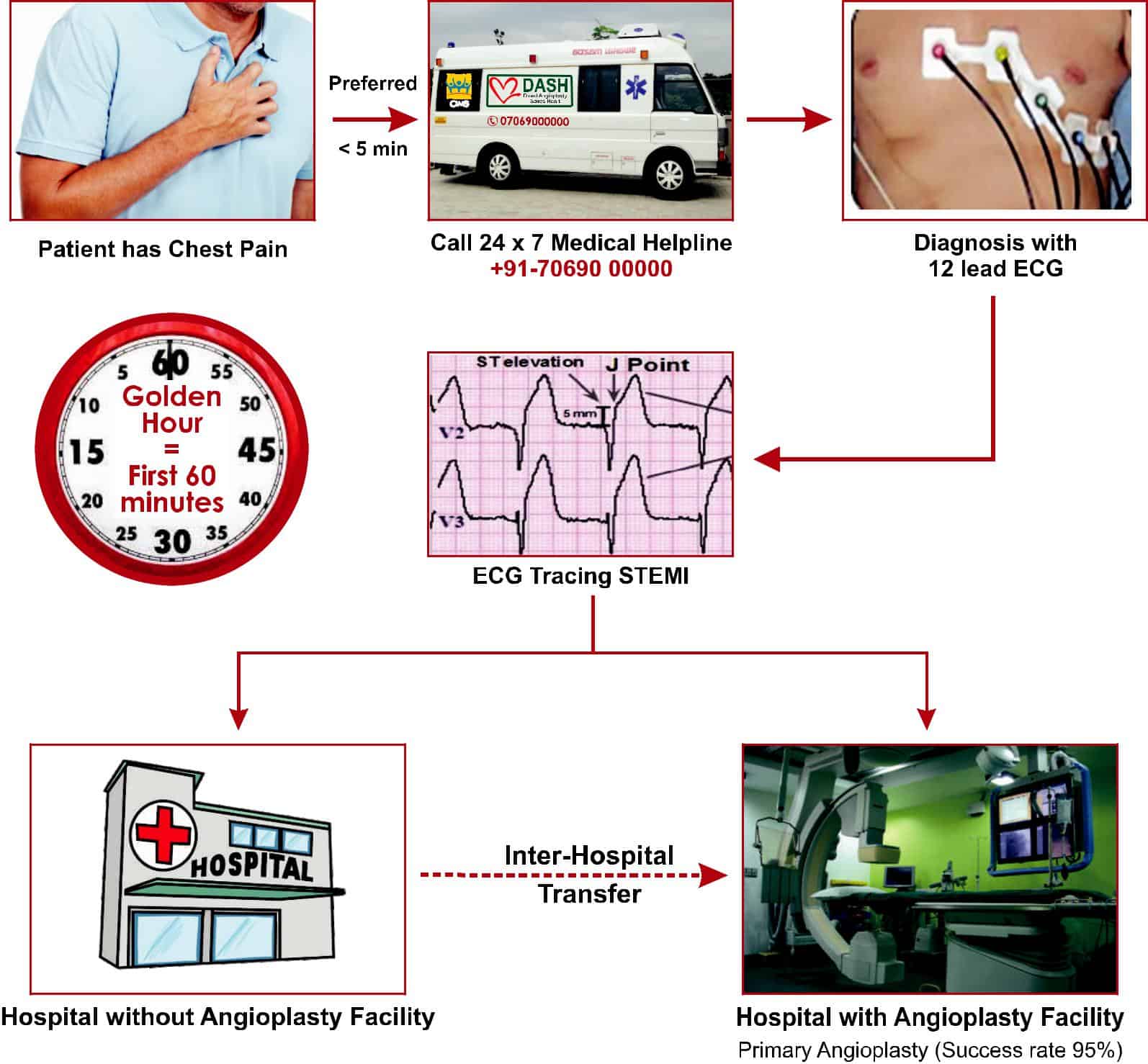 Heart Attack Recovery Questions and Answers

How long will I need to rest after heart attack?
Rest is important after a heart attack, but it's just as important for you to participate in recreation and social events and to begin making physical activity a part of your daily life. Heart patients should rest before they get too tired.
When can I go back to work?
Most heart attack patients go back to work within two weeks to three months depending on the severity of the heart attack.
Your doctor will determine when you can go back and if your current job is suitable for you.
Will I feel emotionally disturbed after an Heart Attack?
Heart attack patients will feel a wide range of emotions, typically for about two to six months after the event.
Depression is quite normal, along with fear and anger; it may interfere with sleeping, eating, self-esteem or thoughts of suicide.
For example, every time you feel a little pain, you may feel afraid it's going to happen again — afraid you are going to die. That's normal and will begin to pass as time goes by.
Resentment is common after a heart attack. Try to understand that your family and friends are just as worried as you are.
You should talk to your doctor and those close to you about your feelings.
What is the role of my family following a heart attack?
The family needs to be supportive and sensitive to your health needs. They should be counseled and educated for handling emergencies and taught techniques like CPR(cardiopulmonary resuscitation).
Recovery is much faster with a trusted support team of healthcare professionals, family and friends
Heart Attack Recovery Questions and Answers

Is chest pain normal after a heart attack?
Not everyone will have chest pain , but if you do, it should be a light pain or pressure in your chest that quickly goes away. It will typically happen during or right after physical exertion, intense emotion or eating a heavy meal.
Why is cardiac rehabilitation important?
Rehabilitation programs can help you change your lifestyle habits. These programs are undertaken at CIMS hospital with a rehabilitation team, nurse, dietician and other healthcare professionals
Why are lifestyle changes important?
Making changes in your lifestyle is one of the most important things to prevent another heart attack, heart disease and stroke. The ABCs of prevention are:
Avoid Tobacco — If you smoke after a heart attack, your chances of having a second one are doubled.
Become More Active — Regular physical activity will ease stress and depression, help control weight and help lower blood pressure and cholesterol levels.
Choose Good Nutrition — Good nutrition will help control your weight, lower blood pressure and cholesterol levels and help your body heal faster.
Even if you're taking prescription medication, it's still extremely important to lead a heart-healthy lifestyle
What about sex after a heart attack?
Most people can continue their same pattern of sexual activity after they recover from a heart attack. Talk to your doctor. You may be prescribed nitroglycerin if you experience chest pain (angina) during or after sex.
Three Facts to Remember About Yourself after an Heart Attack
You have coronary artery disease (CAD), which is a chronic, progressive medical condition.
Some portion of your heart muscle has been damaged, and remaining normal heart muscle is working overtime to pick up the slack.
Because of the scar tissue on the heart muscle, there is higher-than-normal risk for sudden death from heart arrhythmias.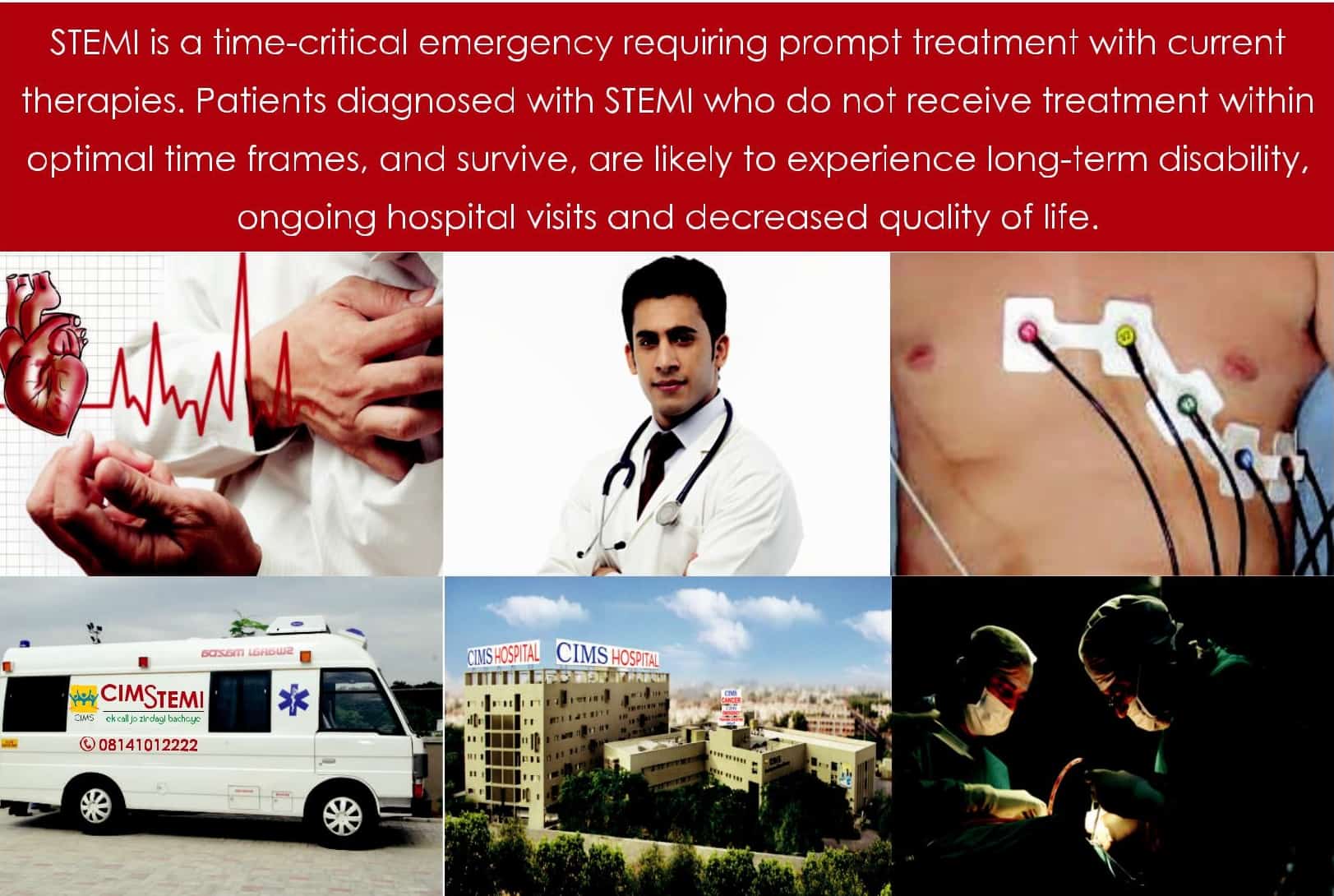 Marengo CIMS Hospital has received several awards and recognitions for its outstanding healthcare services and quality of patient care. The hospital has been consistently recognized for its commitment to delivering high-quality healthcare services and has been awarded as the best hospital in Gujarat for 2019 by the International Health Care Awards.
The hospital has also received several other awards, such as the best hospital for quality in service delivery award at the ABP News presents Healthcare Leadership Awards 2015, held in Mumbai. This award highlights the hospital's dedication to providing high-quality healthcare services to its patients.
Marengo CIMS Hospital is also recognized as the Times Health Icon 2018 for being the best hospital for Oncology and Critical Care. This recognition is a testament to the hospital's expertise in treating critical diseases and its exceptional care for cancer patients.
Furthermore, Marengo CIMS Hospital was rated as the best multispecialty hospital in Gujarat at the International Healthcare Awards 2018 held in Delhi. This recognition highlights the hospital's commitment to delivering world-class healthcare services and providing quality treatment to patients with various medical conditions.
Marengo CIMS Hospital is a 350-bedded, multi-super specialty hospital, and is regarded as one of the best multi-specialty hospitals in Ahmedabad, Gujarat. The hospital offers a range of diagnostic and treatment services and is a leading heart hospital in Ahmedabad, Gujarat. The hospital provides world-class treatment and healthcare services, with one of the highest success rates in India.
Marengo CIMS Hospital's recognition as the best hospital in Gujarat for 2019 by the International Health Care Awards, and several other awards and recognitions, showcases the hospital's commitment to delivering high-quality healthcare services and providing exceptional care to its patients.
Plot No. 67/1, Opp. Panchamrut Bunglows,
Near Shukan Mal, Off. Science City Road,
Toll Free Number : 1800 309 9999
Medical Helpline +91 70 69 00 00 00
Phone: 079 4805 1200 or 1008
+91 79 2771 2771 or 72
Fax: +91 79 2771 2770
Mobile: +91 98250 66664 or +91 98250 66668
Ambulance: +91 98244 50000
Email: info@cims.org | opd.rec@marengoasia.com
Registered Address:
CIMS Hospital Private Limited
Plot No.67/1, Opp. Panchamrut Bungalows,
Nr. Shukan Mall, Off Science City Road, Sola, Ahmedabad – 380060
CIN No: U85110GJ2001PTC039962