Renal Denervation
---
Innovative treatment option for patients with uncontrolled hypertension
The first RDN procedure for the first time in India successfully accomplished at CIMS Hospital, Ahmedabad
Four hypertension patients successfully administered the therapy
In India the prevalence of hypertension is on rise and according to statistics hypertension kills nearly 15 lacs and about 10 crore people are affected every-year in South-East Asia. To keep the grim disease on bay, Care Institute of Medical Sciences, the multi-super specialty hospital recently accomplished Renal Denervation procedure on 4 patients suffering from hypertension by CIMS Cardiology team with Dr. Keyur Parikh, Dr. Hemang Baxi, and Dr. Anish Chandarana. With this achievement CIMS becomes the first hospital in India to implement such procedure on hypertension patients.
Medtronic Inc. has developed the SymplicityTM renal denervation system as a minimally invasive means of achieving renal denervation. In Europe, the Symplicity device received CE mark approval in 2010.The Symplicity system was launched commercially in April 2010 and is currently available in parts of Europe, Asia, Africa, Australia and South America and over 75 countries with over 12,000 patients treated worldwide. This is the first instance in India, when a patient is treated with this minimally invasive therapy, under DCGI approval.
| | |
| --- | --- |
| | |
Speaking about the relatively new therapy in India medical history, Dr. Keyur Parikh said "Renal Denervation therapy is a relatively new concept in India. It is a proud moment for us as CIMS Hospital has become the first in the country to successfully accomplish the therapy amongst the twelve centers identified in India to perform the RDN procedure in a supervised study setting. Hypertension in India is multiplying with each passing day due to unhealthy diets, irregular lifestyles or sometime due to hereditary problems. RDN is a Catheterization-based intervention to treat patients with refractory hypertension. The rationale of RDN is the mechanical destruction with high frequency ablation of renal sympathetic fibers, which can be easily accessed via the renal artery. But this procedure is only valid for patients suffering from primary hypertension".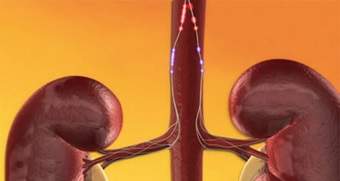 The Symplicity Renal Denervation System consists of a small steerable treatment catheter and an automatically-controlled treatment delivery generator using very safe radiofrequency waves. The treatment is minimally invasive; does not require open surgery and it typically takes 40–60 minutes. Patients aged between  18 and ≤ 80 years are eligible if they have a systolic blood pressure (SBP) of  160 mmHg. The procedure "calms" the nerves of kidney blood vessels and is performed under local anesthesia. Four patients; two female and two males, whose systolic blood pressure was above 170 mmHg despite taking 3-6 medicines daily, have undergone RDN procedure at CIMS. They have done well and are walking around on the very next day and ready to go home.