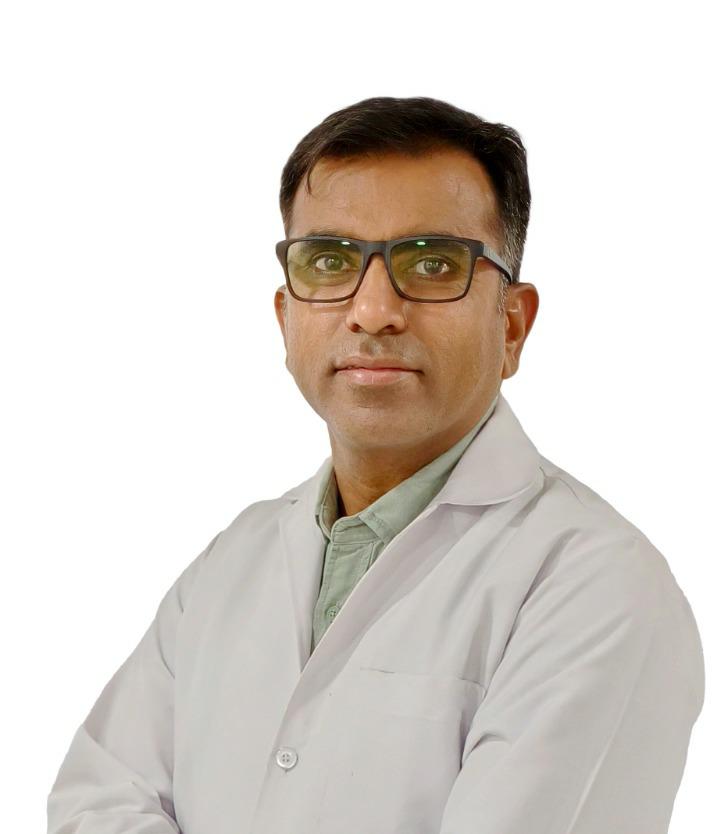 Daria Singh
Dr. Daria Singh
MBBS, MS (Orthopaedics)
Head, Department of Orthopaedic Surgery
Education :
MBBS – SP Medical College, Bikaner, Rajasthan
⚫ MS (Orthopedics) – SMS Medical College, Jalpur, Rajasthan
Experience and Achivements
20 years experience in Orthopaedics and Joint replacement surgeries
PG Teacher for DNB (Orthopedic Surgery)
Developed a technique for achieving accuracy and precision in joint replacement surgery -True Align Technique
Initiated One Day TKR programme.
Involved in various Clinical Trails
Area of Expertise :
Partial Knee Replacement
Total Knee Replacement
Revision Total Knee Replacement
Partial Hip Replacement
Total Hip Replacement
Revision Hip Replacement
Hemi Shoulder Replacement
Total Shoulders Replacement
Reverse Shoulder Replacement
Total Elbow Replacement
Radial Head Replacement
Ankle Replacement
Deformity Correction Surgeries
Arthroscopic Surgeries
Trauma/Fracture Surgeries
Awards & Accolades :
Clinical Fellowship in Single Stage exchange Arthroplasty in infected joint replacement at ENDO-Klinik Hamburg, Germany, 2009
Successfully completed Total Hip & Knee course at Orthoindy, Indianapolis, USA, 2012
Obervership in Arthroscopic Surgery at KMC, Manipal, Karnataka, 2014
Publications :
Singh D. Patel KC, Singh RD. Achieving coronal plane alignment in total knee arthroplasty through modified preoperative planning based on long-leg radiographs: a prospective study. J Exp Orthop. 2021 Nov 2; 8(1):100. doi: 10.1186/s40634-021-00418-y,
PMID: 34729656; PMCID: PMC8563908, • A paper on "Ununited fracture neck of femur treated with closed reduction and internal fixation with cancellous screw fixation and fibular grafting" in Indian Journal of Orthopedics: 2006: 40 (2): 90-93.