Ethics Committee
---
Ethics Committee of Care Institute of Medical Sciences (EC CIMS) is the first Ethics Committee in India accredited by National Accreditation Board for Hospitals and Healthcare Providers (NABH).
History of EC CIMS
---
2006 – Established Ethics Committee of Heart Care Clinic
2009 – Registration of EC with IROG IRB registration No. IROG 0006900
2010 – EC of Heart Care Clinic re-established as EC of Care Institute of Medical Sciences
2013 – EC CIMS registered by Central Drugs Standard Control Organization(CDSCO),No. ECR/206/Inst/GJ/2013
2016-17 – Renewal of EC CIMS till 2019, No. ECR/206/Inst/GJ/2013/RR-16
2017 – First EC in country to get NABH registration (5/8/2017-5/8/2020)
Scope of EC CIMS
---
Review and approve clinical trials/studies (drugs and devices) both observational, academic, Investigator's Initiated, and experimental studies from Phase I to Phase IV, Bioavailability / Bio-equivalence (BA/BE) studies, Clinical Registry and Others (e.g. Bio-Banks, tissue research, nutraceuticals and food products )
Constitution of EC CIMS
---
The EC CIMS is multidisciplinary and multi-sectored in composition including relevant scientific expertise, balanced age and gender distribution, legal expert and / or a social scientist lay person to safeguard the interests and welfare of all sections of community / society.
The EC CIMS is constituted in accordance with the Schedule Y of the Drugs and Cosmetics Act, CDSCO-GCP Guidelines for Clinical Trials on Pharmaceutical Products (2001), ICMR Ethical Guidelines for Biomedical research on Human Subjects (2006) and in accordance with the value and principles of the communities they serve.
Responsibilities
---
EC CIMS members are dedicated to their roles and responsibilities include:
Safeguarding the rights, safety and well-being of all trial subjects.
Actively participate in the EC Meeting.
Review, discuss and approve research Proposals submitted for evaluation.
Monitor Serious Adverse Event (SAE) reports and recommend appropriate action(s)
Review the progress reports and monitor ongoing studies as appropriate.
Evaluate final reports and outcomes.
Maintain confidentiality of the documents and deliberations of EC meetings.
Flow chart of EC Work
---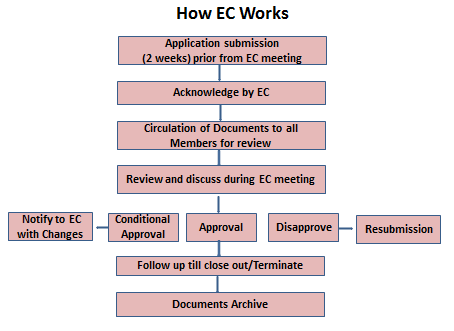 Number of Protocols Reviewed and Approved yearly
---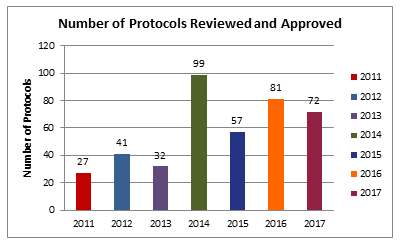 CIMS is keen to support the continued advancement of medical practices through clinical research. Kindly contact EC CIMS for being reviewed and approved for all clinical trials from Phase I to Phase IV as well as Bioavailability/Bio-equivalence (BA/BE) studies.
Ethics Equates to Esteem of Existence
---
CIMS Ethics Committee invites self-nominations for being a committee member.
Nominations are open to following categories:
1.Clinicians: A qualified and experienced registered doctor with post graduate qualifications with adequate experience in their respective fields and aware of their role and responsibilities as Ethics committee members. Knowledge of Good clinical Practices would be an advantage. Nominations are open to doctors attached to CIMS hospital also.
2. Legal Expert: A legal person can be a retired expert in law (judge) or medico-legal expert
3. Social Scientist/ Representative of Non-Governmental Voluntary Agency/ Philosopher, Ethicist or Theologian: A graduate with specialisation in social ethics, intercultural ethics, and the ethics of gender and vulnerable population
4. Lay Person from the community: This includes individuals with expertise in ethics, animal welfare, social sciences as well as members of the local community. Ideally, individuals should have no vested interest in the research and be independent of the particular science faculty or establishment.
5. Member Secretary: The secretary shall be from CIMS and will be in charge of the secretariat of the EC and responsible for reporting to the chairperson on all matters related to the EC .Knowledge of English language and computer skills is essential.
Kindly forward your nomination to ethicscommittee@cimshospital.org
Our HOSPITAL
CIMS Hospital, Ahmedabad
Call us
We are available 24/7
CIMS Hospital was awarded being the best hospital in Gujarat for 2019 by the International Health Care Awards.
CIMS Hospital is a 350-bedded, multi-super speciality and regarded one of the best multi-speciality hospitals of Ahmedabad in Gujarat providing a range of diagnostic and treatment services.  
CIMS Hospital has been awarded best hospital for quality in service delivery award at the ABP News presents Healthcare Leadership Awards 2015 held at Mumbai.
CIMS Hospital has been recognized as the Times Health Icon 2018 for being the best Hospital for Oncology and Critical Care. CIMS Hospital also was rated the Best Multispecialty Hospital in Gujarat at the International Healthcare Awards, 2018 held in Delhi. 
CIMS Hospital provides world-class treatment and healthcare services in India and the leading heart hospital in Ahmedabad, Gujarat. CIMS Hospital offers the highest quality services and offers treatment to most diseases and medical problems with one of the highest success rates in India.